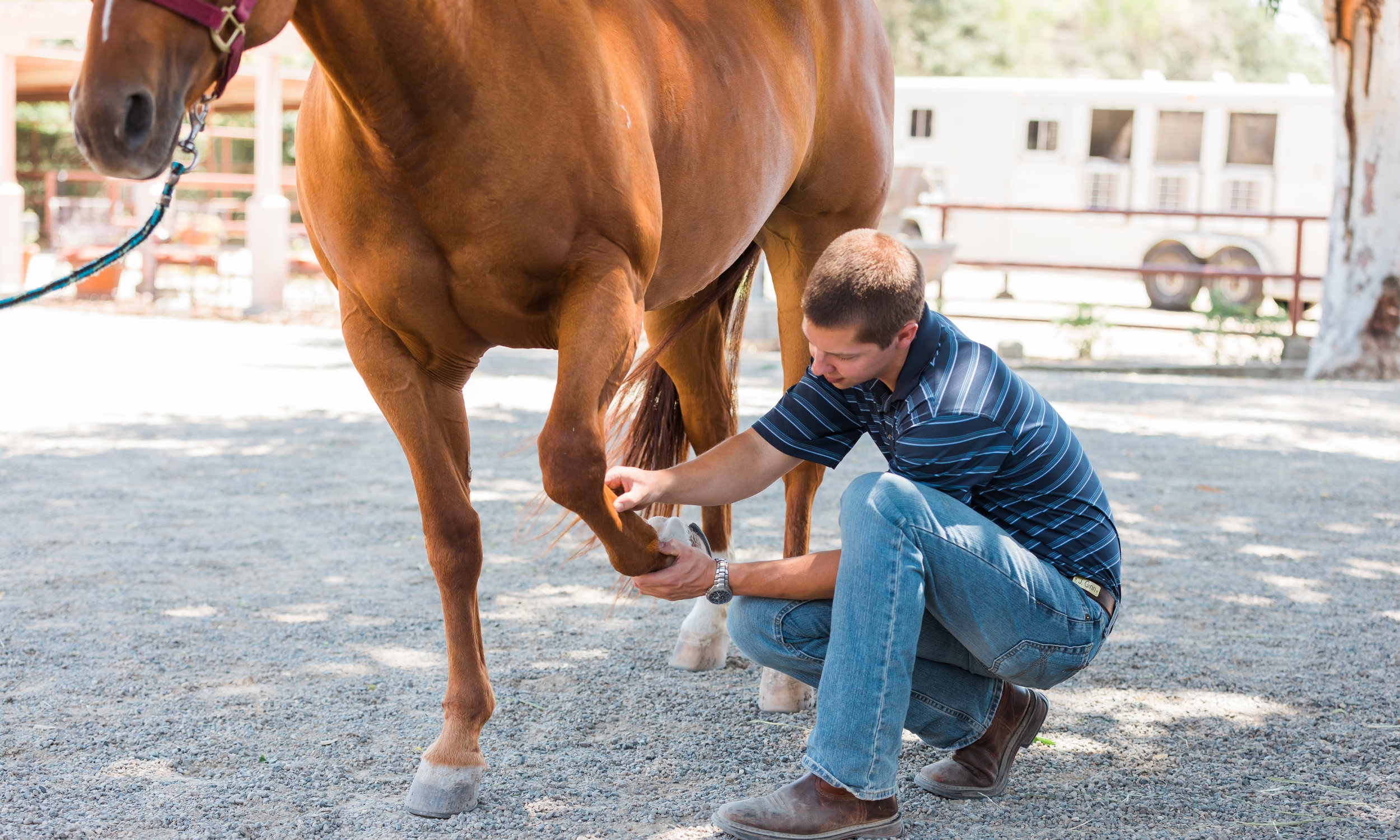 Internship & Externship Programs
At Alamo Pintado, our commitment to education and teaching is a priority. We believe that in teaching veterinarians and veterinary students, we advance veterinary knowledge and improve the quality of care we give to our patients. From this vision stems the two programs we offer for veterinary students and veterinarians.
EXTERNSHIP PROGRAM
Highly motivated veterinary students, on their third or fourth year of their professional education, may apply and join the staff at Alamo Pintado for preceptorships lasting four to six weeks. Under the direct supervision of the veterinary staff, they will gain solid, hands-on experience and knowledge in equine medicine. The level of veterinary care that they observe at Alamo Pintado will allow them to return to their schools having had an exceptional experience in equine field practice and private referral center. Many extern students apply to come back to Alamo Pintado for our Internship program after they complete their schooling.
During their visit, the students stay on the property in the guest rooms at the Intern's house. This ensures that they experience the full extent of equine veterinary medicine, as they will be on hand for the day-to-day operation of the facilities as well as for emergencies and overnight care. Please apply early as the positions fill on a first-come-first-serve basis. Please send any initial inquiries to Mrs. Karen Dewett via e-mail, followed by your resume with two professional reference letters by mail.
INTERNSHIP PROGRAM
Over the last 30+ years of our internship program, over 100 veterinarians have come through the program and gone on to contribute significantly to the advancement of equine veterinary medicine. Our competitive Internship Program offers recent veterinary graduates the opportunity to work with our staff and experience equine veterinary medicine at it's finest.
Applicants are selected from the most prestigious veterinary schools in the country and around the world. Our Intern veterinarians manage the medical care of our critical patients, facilitate the day-to-day operations of the clinic and help our staff with the daily appointment caseload. These young veterinarians live on the property and work through an intense yearlong program. At the end of that year, these individuals will have refined and deepened their diagnostic, surgical and technical skills and their understanding of equine medicine. Many of our Interns have already visited the clinic during scheduled Externships and many of our veterinarians currently on staff stayed after completing their Internship. Others went on to successfully apply and complete residency training at veterinary schools and are now highly respected specialists in their fields.
Apply To
Mrs. Karen Dewett
Alamo Pintado Equine medical Center
PO Box 249
Los Olivos, California 93441
karen@alamopintado.com
PAST ALAMO PINTADO INTERNS
1984-85 Dr. Robert Hunt, Surgical Residency — University of Georgia
1985-86 Dr. Brad Perdue, Surgical Residency — Oklahoma State University
1986-87 Dr. Monty Mathis
1987-88 Dr. Jeff Foland, CSU Surgery Residency
1988-89 Dr. Greg Parks, Staff Veterinarian, Alamo Pintado Equine Medical Center
Dr. Yaela Gleusteen
1989-90 Dr. Yaela Gleusteen
Dr. Cliff Naretto
1990-91 Dr. Ed Hamer, Staff Veterinarian, Alamo Pintado Equine Medical Center
Dr. Francois Martin
1991-92 Dr. Francois Martin, Surgical Residency — New Bolton Center, UPenn
Dr. John Nolan
Dr. Melissa Finley, Internal Medicine Residency — Kansas State University
1992-93 Dr. John Moddy
Dr. Norrie Adams, Surgical Residency — University of Minnesota
Dr. Jessica Dugan
Dr. Larry Agle (6 Weeks Only)
1993-94 Dr. Linda Lauper
Dr. Sherri Cook
Dr. Annie Schwartz, Surgical Residency — University of Missouri
Dr. Lisa Prevost
1994-95 Dr. Linda Lauper
Dr. Paul Weitz
Dr. Gabriel Rameriz, Internal Medicine Residency — Tufts University
Dr. Ed Arington
1995-96 Dr. Katharina Lohman
Dr. Diego Uson
Dr. Sandy Ferris
1996-97 Dr. Diego Uson
Dr. Katharina Lohman, Internal Medicine Residency, PhD — Texas A&M University
Dr. Matt Durham
Dr. Kelly Neelley
1997-98 Dr. Phoebe Smith, Internal Medicine Residency — UC, Davis
Dr. Sarah Spikes, Surgery Residency — Ohio State University
Dr. Marta Uson
Dr. Jorge De La Calle, Surgical Residency — Louisiana State University
1998-99 Dr. Amir Belaga
Dr. Kirsten Tillotson, Internal Medicine Residency — Colorado State University
Dr. Jacob Head
Dr. Matt Durham, Diagnostic Imaging Fellowship — New Bolton Center, UPenn
1999-00 Dr. Amir Belaga
Dr. Stephanie Baker
Dr. Mary Masterson
2000-01 Dr. Sabine Brasche
Dr. Carlos Rodriguez, Pathology — Angell Memorial Hospital
Dr. Lisa Teske, Staff Veterinarian, Alamo Pintado Equine Medical Center
2001-02 Dr. Megan Richie DACVR, Radiology Residency — U.C. Davis
Dr. Maria Reynolds
Dr. Joanne Archumbault
Dr. Sabine Brasche
2002-03 Dr. Chris Berezowski, Theriogenology Residency — Texas A&M University
Dr. Shannon Harland
Dr. Corine Selders
Dr. Sabine Brasche
Dr. Joanne Archumbault
Dr. Maria Reynolds
2003-04 Dr. Santiago Nibeyro DACVS, Surgical Residency — Virginia Tech University
Dr. Gabriela Suarez, Internal Medicine Residency — University of Florida
Dr. Lucia Mokres
Dr. Anne Christensen (6 months)
Dr. Cristina Anzures
Dr. Sara Scrivante (4 months)
2004-05 Dr. Sara Scrivante
Dr. Gabriel Cuevas, France MS, PhD
Dr. Sarah Gold
Dr. Alessia Ebling
2005-06 Dr. Alessia Ebling, Ultrasound Fellowship — U Penn, Radiology Residency-University Zurich
Dr. Abigail Carrillo
Dr. Katy Marcus
Dr. Tracey Teixeira, Large Animal Fellow — Oregon
Dr. Marco Duz, Internal Medicine Residency — University of Scotland
2006-07 Dr. Mike Karlin DACVS, Surgical Residency — University of Illinois
Dr. Kristina Grewal
Dr. Tracy Epps
Dr. Jarred Williams DACVS, Surgical Residency — The Ohio State University
Dr. Karin Pader DACVS, Ultrasound Fellowship — UC Davis, Surgical Residency – Purdue
2007-08 Dr. Julie Rosetto, Internal Medicine Residency — The Ohio State University
Dr. Lindsay Brown
Dr. Kathy Lynde
Dr. Elizabeth Rodgers DACVS, Surgical Residency — Auburn University
Dr. Alexander Daniel, Surgical Residency — Colorado State
2008-09 Dr. Kaley Seitz
Dr. Maureen Holowinski DACVR, Radiology Residency — Tufts University
Dr. Ashley McCaughan
Dr. Laura Stokes-Green
Dr. Ceyla Reynoso
Dr. Jan Trela, Equine Surgical Residency — University of California, Davis
2009-10 Dr. Clayton Smith, DVM
Dr. Daniel Gonzalez, DVM
Dr. Carolyn Spitz, MRCVS
2010-11 Dr. Sabine Buerchler
Dr. Cierra Riffle
Dr. Brittany Davis
Dr. Anya Kjilich, MPVM — UC Davis
2011-12 Dr. Alejandra Garza
Dr. Lauren Gummery
Dr. Ashley Troncatty
Dr. Natalie Zdimal
2012-13 Dr. So Young Kwon, Internal Medicine Residency — Washington State Unveristy
Dr. Carolina Maria Lopez
Dr. David Priest
Dr. Flynn Henry
Dr. Jocelyn Lorbiecki
2013-14 Dr. Emma Bengtstomm, Surgical Internship — Marion DuPont — Virginia Tech University
Dr. Elizabeth Coppelman, Surgical Residency — University of Minnesota
Dr. Crystal Riczu
Dr. Lisa Hadduck
Dr. Carolina Maria Lopez, Internal Medicine Residency — Washington State Univeristy
2014-15 Dr. Noemie Frech
Dr. Tyler Newton, Staff Veterinarian, Alamo Pintado Equine
Dr. Karen Von Dollen, Theriogenology Residency — North Carolina State
Dr. Cristobal Dorner
Dr. Kelley Krisch
2015-16 Dr. Kelley Krisch
Dr. Allie Brown
Dr. Maria Camarero Ruiz
Dr. Stephanie Barnett
Dr. Philippine Fenal
2016-17 Dr. Hayley Rasmussen-Ball, Internal Medicine Fellowship — Alamo Pintado Equine
Dr. Therese Loberg
Dr. Stasia Sullivan, Surgical Residency — The Ohio State University
Dr. Elizabeth Lee
Dr. Gretchen Syburg
2017-18 Dr. Oliver Newman
Dr. Dominic Eickert
Dr. Jason Ginn — Surgical Internship — University of Pennsylvania
Dr. Elizabeth Marchant — Surgical Residency — Oregon State University
Dr. Caitlin Zacha
2018-19 Dr. Abbi Bassett — Surgical Residency — Texas A&M University
Dr. Jillian Bell
Dr. Sophie Talbot
Dr. Kari Searls
Dr. Babette Van Bree